Kristin Neff, Ph.D. is a pioneer in the study of self-compassion, being the first one to operationally define and measure the construct almost twenty years ago. She has been recognized as one of the world's most influential research psychologists. In addition to researching self-compassion, she has developed an eight-week program to teach self-compassion skills in daily life, co-created with her colleague Dr. Chris Germer, called Mindful Self-Compassion (MSC).
LEARN MORE ABOUT KRISTIN
WORKSHOPS AND EVENTS

About Self-Compassion:
Self-compassion is simply the process of turning compassion inward.  We are kind and understanding rather than harshly self-critical when we fail, make mistakes or feel inadequate.  We give ourselves support and encouragement rather than being cold and judgmental when challenges and difficulty arise in our lives. Research indicates that self-compassion is one of the most powerful sources of coping and resilience we have available to us, radically improving our mental and physical wellbeing. It motivates us to make changes and reach our goals not because we're inadequate, but because we care and want to be happy. This website offers information about self-compassion, as well as research, guided practices and a way to test your own self-compassion level. It's a good place to start on your journey of leaning to be more self-compassionate.
Now Available!
Drawing on a wealth of research, her personal life story and empirically supported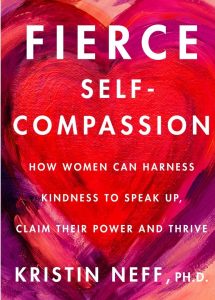 practices, Neff demonstrates how women can use fierce and tender self-compassion to succeed in the workplace, engage in caregiving without burning out, be authentic in relationships, and end the silence around sexual harassment and abuse.
Most women intuitively recognize fierceness as part of their true nature, but have been discouraged from developing it. Women must reclaim their power in order to create a healthier society and find lasting happiness. In this wise, caring, and enlightening book, Neff shows women how to create balance within themselves, so they can help change the world. To find out more click here
Six years in the making, this comprehensive textbook is the authoritative guide to conducting MSC. Order now.
This entertaining book offers expert advice on how to limit self-criticism and offset its negative effects, enabling you to achieve your highest potential and a more fulfilled life. Order now.
The seeds of self-compassion already lie within you—this workbook will help you uncover this inner resource and transform your life. Order now.

TEDx Talk: The difference between self-compassion and self-esteem
Mindful Self-Compassion combines the skills of mindfulness and self-compassion, providing a powerful tool for emotional resilience. Randomized controlled trials have demonstrated that MSC significantly increases self-compassion, compassion for others, mindfulness, and life satisfaction, as well as decreasing depression, anxiety and stress. Visit the Center for Mindful Self Compassion to learn more about MSC and how it can help you have a healthier relationship to yourself. Short online self-compassion trainings are available.